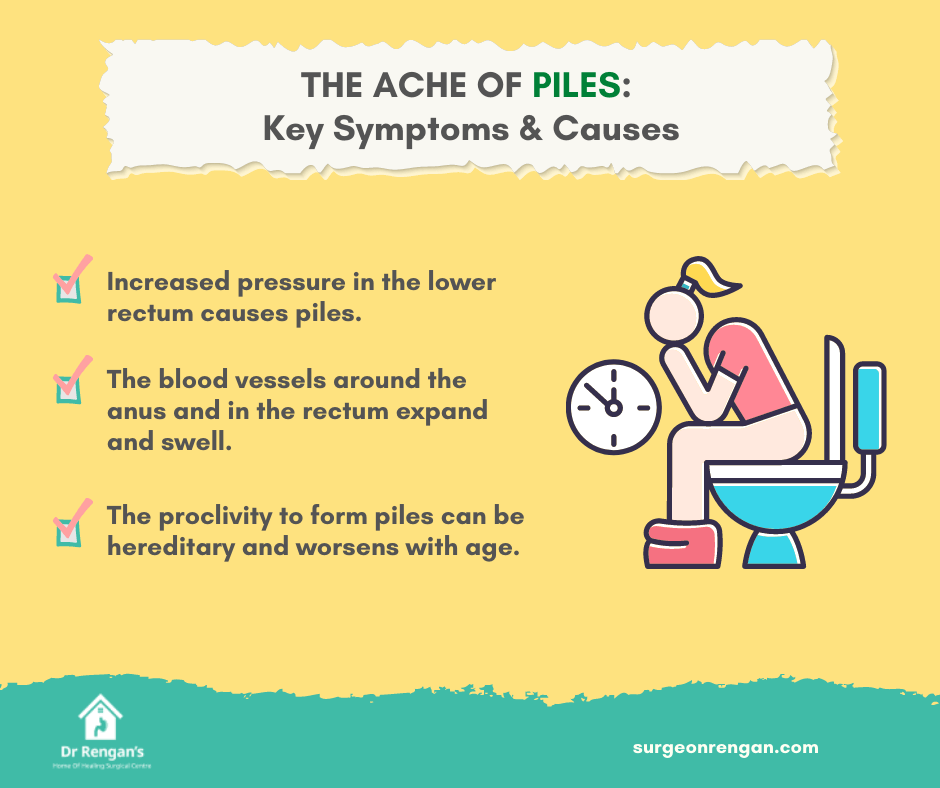 The Ache of Piles: Key symptoms and causes
Patients often fail to realize that constipation and piles go together. When the patient feels constipated, the body fails or finds it extremely difficult to get rid of the waste of time. Struggling to pass waste once in a while is normal for a human body, however, if a person is struggling for more than 3 months, it is considered chronic constipation and requires immediate medical assistance. Dr. Rengan has been treating patients with constipation and piles for the past 30 years.
What is the relation between piles and constipation?
Understanding the Discomfort Caused due to Piles
When you're constipated and straining to get a hard stool out, blood pools in the veins of your backchannel, similar to a varicose vein on your leg. Piles, often known as hemorrhoids, are engorged veins. With the stool, the veins and the skin that covers them can be driven out of the anus and trapped outside. When you pass stool, it may cause bleeding too. The blood in piles can clot if they are not pushed back within. A thrombosed pile is an exceedingly irritating and painful condition.
In some cases, the symptoms of piles are not serious, and they typically heal on their own within a few days. These symptoms of piles in a patient may include-
Around the anus, a firm, and painful lump may be felt by the patient. It could have coagulated blood in it.
A person with piles may have the sensation that their bowels are still full after passing a stool.
After a bowel movement, the patient may see bright red blood.
Itchy, red, and painful skin surrounds the anus.
During the passing of a stool, pain develops.
In various cases, piles can escalate into a more severe and chronic condition for a patient if the following symptoms are experienced-
Anaemia can be caused by excessive anal bleeding.
A lack of control over bowel movements.
A new channel is developed between the surface of the skin near the anus and the inside of the anus in an anal fistula.
A strangulated hemorrhoid is one in which hemorrhoid's blood supply is cut off, resulting in infection or a blood clot.
Key Causes of Piles
Increased pressure in the lower rectum causes piles.
Under strain, the blood vessels around the anus and in the rectum expand and swell or bulge, producing piles. This could be because of:

Constipation for a long time
Diarrhea for a long time
Exercising with big weights
Pregnancy
Straining while or after passing stool
The proclivity to form piles can be hereditary and worsens with age.
Dr. R S Rengan is a senior laparoscopic surgeon who has been treating piles using the latest technology for the past 30 years. He is an expert in both open and stapled piles surgery. Visit us at our center to seek more professional advice.