HERNIA SURGERY WITHOUT MESH
Mesh free hernia surgery
Mesh based hernia repair is the current gold standard for hernias. However, we have a lot of patients who don't want a mesh in their abdomen for various reasons. There are reports that surgery performed without meshes has lower pain scores and faster recovery. However, the data is still unclear. Dr. R S Rengan regularly performs mesh-free hernia repair which is popularly termed as Desarda repair.
Dr. Rengan has interacted with Prof Mohan Desarda and has performed hundreds of mesh free Desarda hernia repairs over the last 10 years.
What is mesh free hernia surgery?
Mesh free hernia surgery is nothing new. Dr. Rengan trained initially in an era where meshes were not used. The olden style mesh free repairs had many variants like – Shouldice repair, Bassini repair, and McVay repair. These repairs are not used frequently because of high rates of recurrence and also because they involve approximating tissues at high tension. These high tension repairs were also responsible for postoperative pain. They slowly went out of fashion.
Prof Mohan Desarda invented a substitute for meshes using the body's own tissue – the external oblique aponeurosis. Results from Dr. Desardas studies have shown good outcomes.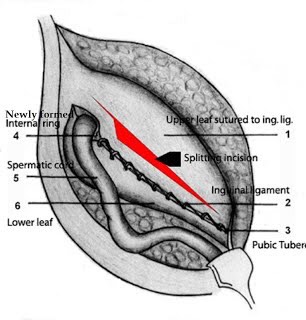 Prof Desardas repair is now performed all over the world by a select group of surgeons. Dr Rengan performs it when the patient asks for it and when there is no contraindication.
As you can see, hernia repair is an operation with various techniques for a common problem. There is still no definitive answer in the medical field as to which is the best hernia surgery. Even older techniques still have to be performed in certain scenarios. This is why a heart-to-heart conversation with your doctor is necessary before embarking on surgical treatment.
We believe it is important that patients understand their bodies just as well as we do before undergoing any treatment, let alone something as invasive as surgery. We welcome you to contact or visit our center for any questions or queries you may have.