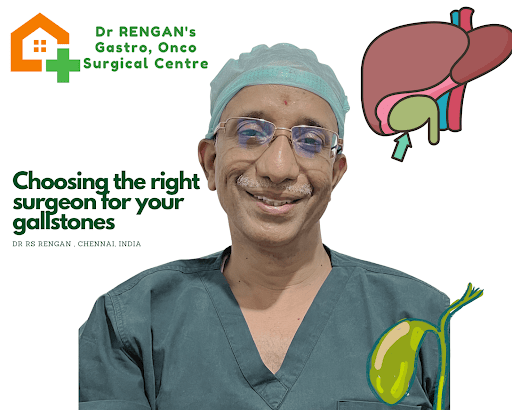 Which surgeon is best for gallstone surgery?
When it comes to your health, particularly a surgical procedure as significant as gallstone removal, it's crucial to choose a skilled and experienced surgeon. The decision-making process should involve thorough research and careful evaluation of several factors. In this article, we will discuss ten key elements you should consider when selecting a surgeon for your gallstone operation. We will also be talking about Dr Rengan and his team that performs gallstone surgery in Chennai.
1. Qualifications and Credentials:
The first step in finding a reliable surgeon is to examine their qualifications and credentials. Look for a surgeon who is board-certified and possesses relevant training and experience in gallstone surgery. Dr. RS Rengan has an impeccable record, with extensive training in laparoscopic and minimally invasive surgery, making him highly qualified to perform gallstone procedures. He completed his MS (masters of Surgery) at Armed Forces Medical College in chennai winning a gold medal and is also board-certified DNB general surgeon. He has trained under some of the world's best known surgeons and also has an additional qualification from the mecca of laparoscopy IRCAD
2. Experience in Gallstone Surgery:
Experience plays a vital role in surgical success. Determine the surgeon's experience level in performing gallstone removal surgeries. Dr. RS Rengan has a wealth of experience, having successfully performed numerous gallstone surgeries throughout his career. He has been practising surgery since 1992 and with more than 30 years experience, he is considered one of the finest surgeons in India and Chennai to perform gallstone surgery.
3. Specialisation in Gallstone Surgery:
Choosing a surgeon who specialises in laparoscopy and minimal access surgery is crucial. They should also have performed numerous gallstone / gallbladder surgeries. They will have a deep understanding of the procedure, potential complications, and the most advanced techniques. Dr. RS Rengan has dedicated his practice to gastrointestinal surgery and has a special interest in gallstone procedures.
4. Reputation and Patient Testimonials:
Check the surgeon's reputation and read patient testimonials to gauge the experiences of previous patients. Positive feedback and a solid reputation are indicative of a skilled and compassionate surgeon. Dr. RS Rengan is highly regarded by his patients, and their testimonials speak volumes about his expertise and patient-centered care. You can check the reviews here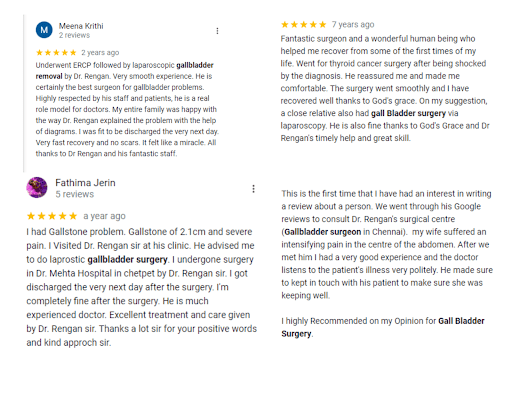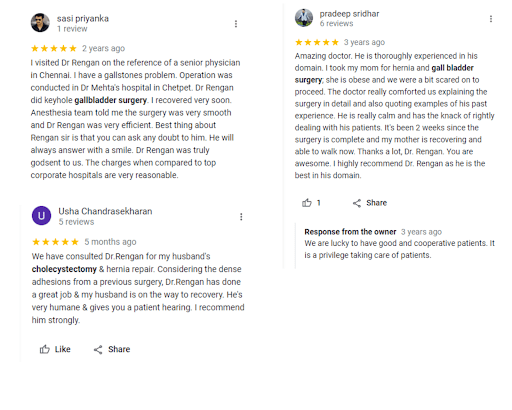 5. Hospital Affiliations:
Consider the hospitals and medical centers with which the surgeon is affiliated. Reputable hospitals with advanced facilities and a dedicated support team contribute to the overall success and safety of the procedure. Dr. RS Rengan operates at renowned hospitals in Chennai, ensuring top-notch surgical care. Dr Rengan performs his surgeries at Dr Mehta's Hospitals, Apollo First Med Hospitals, Vijaya Hospital and Medway Hospitals in Chennai.
6. Technology and Techniques:
Stay informed about the latest advancements in gallstone surgery techniques and ensure that your surgeon employs modern technology for optimal outcomes. Dr. RS Rengan stays abreast of the latest techniques and employs cutting-edge technology to provide safe and effective gallstone surgery. Dr Rengan has been practising cutting edge laparoscopy for many years and performs basic and advanced laparoscopy. He regularly travels all over the world to update himself and also to teach other surgeons.
7. Open Communication:
Effective communication between you and your surgeon is vital for a successful surgical journey. Look for a surgeon who listens attentively, answers your questions, and addresses your concerns. Dr. RS Rengan is known for his communication skills, ensuring that patients are well-informed and comfortable throughout the process. Have a look at what his patients tell about him.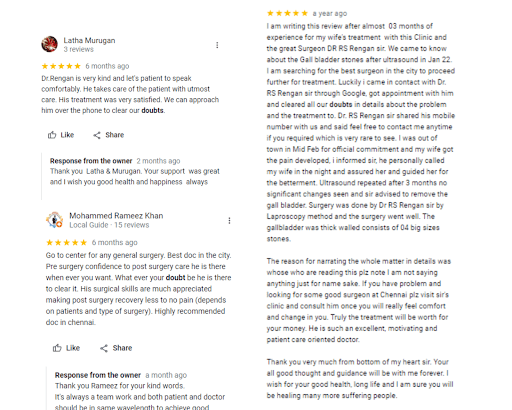 8. Personalised Approach:
Each patient is unique, and a personalised approach to healthcare is essential. A surgeon who tailors their treatment plans to your specific needs will ensure a better surgical experience. Dr. RS Rengan takes a personalised approach, considering individual factors to provide tailored surgical solutions.
9. Post-Operative Care:
Recovery after gallstone surgery is crucial. Inquire about the surgeon's approach to post-operative care and the support provided during the recovery phase. Dr. RS Rengan offers comprehensive post-operative care instructions and follow-up consultations to ensure a smooth recovery process.
10. Trust and Comfort:
Ultimately, trust and comfort are essential factors when selecting a surgeon. You should feel confident in your surgeon's abilities and comfortable discussing your concerns with them. Dr. RS Rengan prioritises building trust and establishing a supportive doctor-patient relationship to provide the best possible care.
Selecting a surgeon for gallstone surgery is a critical decision that should not be taken lightly. Considering factors such as qualifications, experience, specialisation, reputation, and patient testimonials will guide you towards making an informed choice. In Chennai, Dr. RS Rengan stands out as an exemplary gallstone surgeon due to his exceptional qualifications, expertise, patient-centred care, and dedication to delivering optimal outcomes. By choosing Dr. RS Rengan and his team, you can trust that you are in capable hands for your gallstone surgery in Chennai and Tamil Nadu.