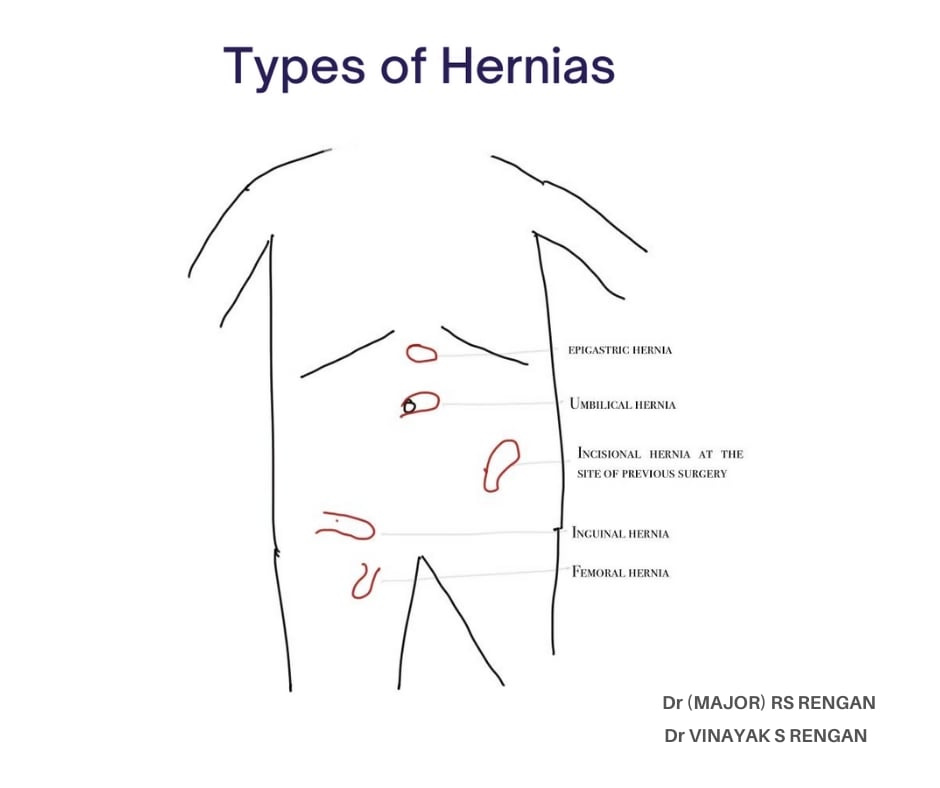 Hernias are one of the most common types of surgical problems faced by adults. There are many different types of hernias, each with their own characteristics. So, what exactly is a hernia? What are the different types?
Imagining a hernia
To start with, let us try to imagine our body as a bunch of organs and tissue held in place by muscles, and further covered by skin. The bones provide the framework for all this. In hernia formation, the muscles, organs, and tissues are most involved. Most organs and tissues in our body are almost free-floating with minimal attachments to each other or other systems.
So what prevents them from being visible as lumpy messes underneath our skin? The simple answer is that our muscles act as firm sheets holding them back, and providing not just a firm structural barrier, but also a protective one.
Sometimes, weakness occurs between muscles or within the muscle itself. This sort of acts an escape route or a weakness through which the internal organs or tissues can now bulge out.
What causes this muscle weakness?
It can be anything- old age, excess strain, site of scarring, genetics, and some people may even be born with muscle weakness.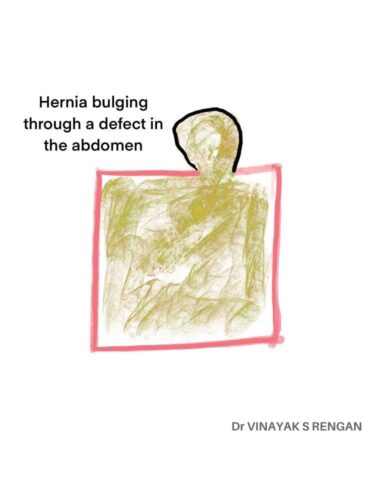 This bulge is often seen as a lump under the skin and is called a hernia. It gets prominent when the muscle is strained (the muscle fibers stretch back to make the weakness bigger, allowing more escape room). Most people dont suddenly notice a hernia, although it can be surprising. In the initial stages, the hernia is only noticeable during muscle strain, although then gradually progresses to being a permanent presence. It is usually then medical support is obtained.
What are the different types of hernias? Here is a brief overview:
Inguinal hernias: Occur in the groin area and are the most common type. They occur more often in men than in women and are associated with aging, strenuous manual labor, and poor bowel habits.
Femoral hernia: This occur in the groin but are much less common than inguinal hernias. They are more common in older women.
Umbilical hernia: Occur in or around the area of the navel (belly button) and are implicated in conditions where the abdominal pressure is high like obesity, fluid collection in the abdomen, etc.
Hiatal hernia: Part of the stomach or lower food pipe gets pushed up into the chest cavity by an opening in the sheet of muscle separating the chest and the abdomen (called the diaphragm).
Incisional hernias: Tissues or organs protrude through the site of an incision or a scar, which has caused a weakness in the underlying muscle.
Epigastric hernias: Any weakness along the midline of the abdomen between the lower part of the breastbone and the belly button, leading to herniation at that site.
Remember surgery is the only solution for hernias. It is important that you seek an experienced hernia surgeon, Dr. Rengan and his team are dedicated to the management of hernias and will offer you the best strategy to solve your hernia issue.