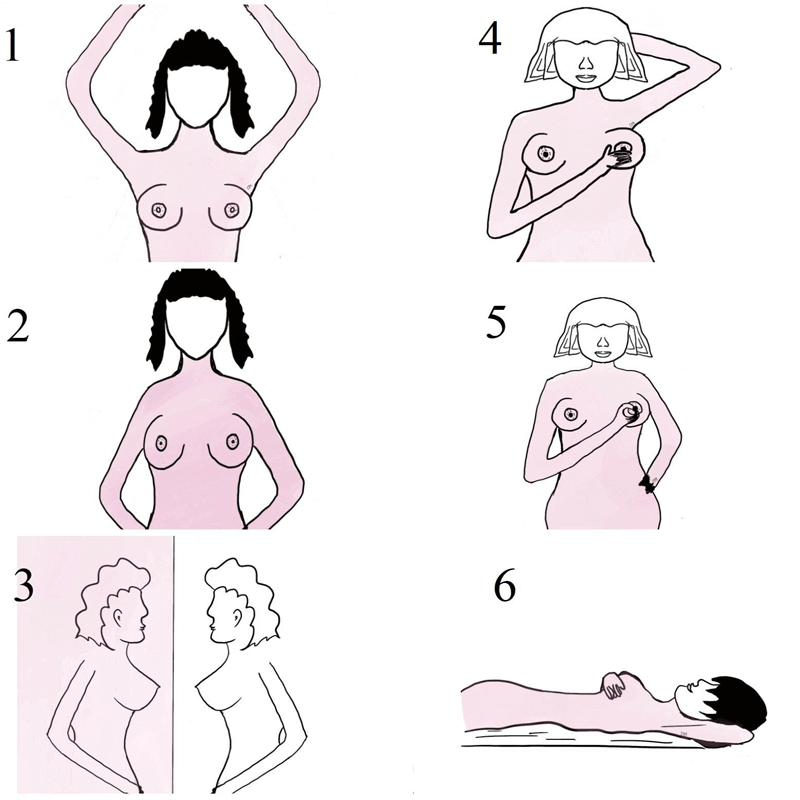 Breast cancer is a scourge that devastated the lives of millions of women. I am Dr. R S Rengan, senior consultant in General and Laparoscopic surgery. Over the last 30 years of my surgical practice, I have operated on and treated thousands of women with breast cancer. I have a keen interest in creating awareness about breast cancer.
Who Is At Risk Of Breast Cancer?
There are certain groups of people more prone to develop breast cancer, They are:
Positive family history of breast cancer
Older people
High socioeconomic status
Obesity
Alcohol intake
Early menarche and late menopause
Nulliparity, No childbirth
Previous history of ovarian cancer and endometrial cancer
A person on hormone replacement therapy
Therapeutic radiation exposure
The most important protective factor is breastfeeding.
Is breast cancer exclusive for females?
No. Men are also at risk of breast cancer. The prevalence of breast cancer in males is less than in females.
I have a family history of breast cancer, What Should I do?
Women should be familiar with their breasts and promptly report changes to their health care provider.
It is important for every woman to know the clinical examination of her own breast. In medical terms, it is referred to as Breast self-examination. If you find any abnormal changes as described, you need to consult a surgeon and necessary investigations to be done. Genetic testing is recommended if a first-degree relative is diagnosed with breast cancer.
If you are above 30 years, annual screening MRI and above 40 years, annual screening Mammography ( X-ray), is advised if the lifetime risk is greater than 20%. ( Lifetime risk as suggested by your consultant depending on risk assessment models of cancer breast)
Steps of Breast Self Examination:
Start by looking for differences between your two breasts.
Visualize your breast in front of the mirror. Look for:
Visible lumps
Unusual differences between the two breasts
Dimpling or indentations in the breast tissue
Redness, scaliness, or other changes to the skin or nipples that appear abnormal
Changes to your nipples, for example, a nipple that is newly inverted or pulling in
Step 1: lift your arms above your head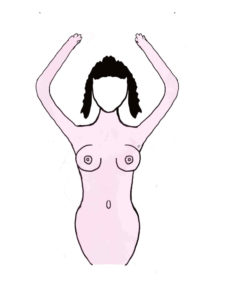 Look for the above changes in the breasts. Raise your arms, see if theres any puckering or dimpling of the skin when you elevate them. When a mass is there it stays and the skin is pulled leading to puckering of the skin.
Step 2: Put your hands on your hips, pull your elbows forward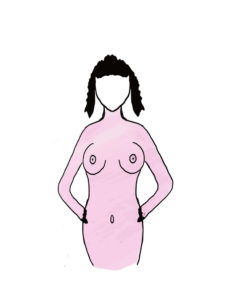 Look for any changes in the breasts as described above.
Step 3: Turn side to side and look for the changes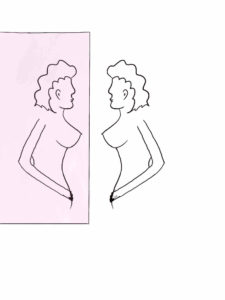 Look for any changes in the breasts as described above.
Step 4: 3 fingers examination of breasts in an upright/standing position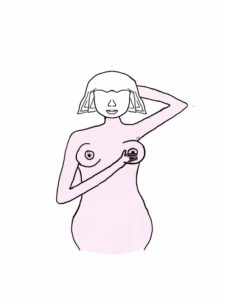 The breast self-exam should be done in an upright position. In an upright position, use the index, middle, and ring finger of the opposite hand to examine the breast. (eg: Left hand to examine your right breast). Lift your adjacent arm while examining. Press down around the breast and surrounding area using circular motions and look out for any mass or abnormal consistency of the breast tissue.
Step 5: Nipple examination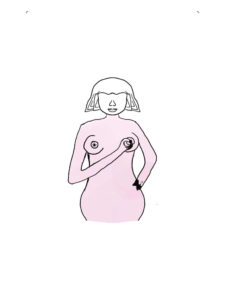 Gently squeeze your nipple and look out for any discharge.
Step 6: Examining your breasts in a lying position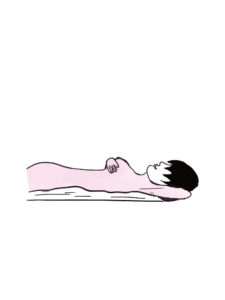 Repeat step 4 in lying down position. Lay supine with a pillow propping up your head and your arm resting behind it. With the opposite hand, take the first three fingers index, middle, and ring fingers and use them to press down around the breast and surrounding area using circular motions. Increase the pressure you use with each pass around the breasts to examine the deeper tissue.
Step 7: Examine the areas surrounding the breast
After examining your breasts, it is important to perform a check of the areas around them. Continue to use circular motions and increasing pressure as you move from the collarbone to the sternum and down below the breast. From the lower part of the breast, travel up to the area under your arm (Axilla) to look for any swelling in the lymph nodes. Also examine above and below the collar bone. You need to look out for any mass that feels like a marble or a walnut. Something that definitely feels different than the surrounding breast tissue.
Step 8: Perform the test at the same time each month
It is advised to do this examination 7-10 days after your menstruation. Do the breast self-examination at the same time every month. Women who are postmenopausal can do the examination at any time of the month, as long it is around the same time each month.
I have described the steps of breast self-examination in 8 simple steps. Pass this message to your friends and relatives.
Dr. R S Rengan is a senior consultant in General & Laparoscopic surgery practicing in Chennai, India for the past 20 years. He was a surgeon in the Indian Army until 2001. He is the founder of Dr. Rengans Home of Healing Surgical Centre and Chennai Hernia Centre. He has performed thousands of breast cancer surgeries.